Affordable All on 4 Dental Implants in Europe
Package Price: Call to Check
Treatment: Dentistry
By PlacidEurope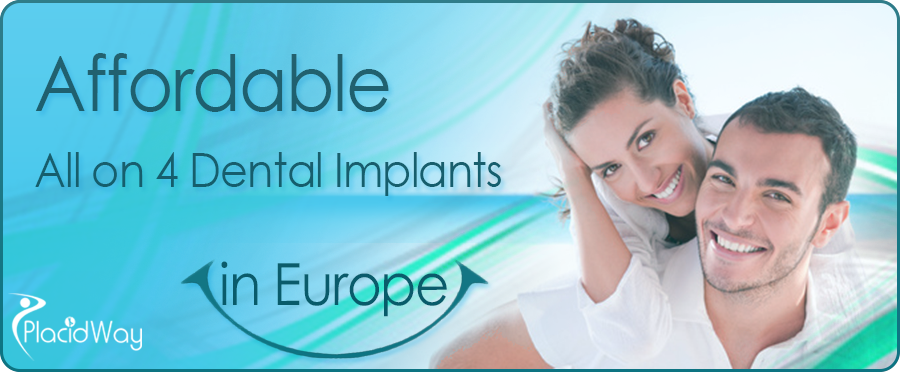 Affordable All on 4 Dental Implants in Europe
In Eastern Europe getting the perfect dental vacation with a brand new smile that functions better than ever before is easier than ever. While it's economical for Western Europeans to travel to Eastern Europe for a dental checkup or a cleaning, most North Americans who travel to Hungary, Croatia or Ukraine are looking for more extensive care, including cosmetic oral surgeries, full-mouth restorations, and implants. Such work can be had at less than half the US price, including travel and accommodations.
The aim of all-on-4 dental implants is to:
act as tooth roots
disperse similar force around the mouth to secure teeth structure
ease oral activity, such as swallowing, speaking and eating form your facial structure
So restoring a damaged smile can enhance and improve your entire appearance. Not to mention the impact on your health when in comes to high-quality dentition!
Depending on the material used, there are many types of all on 4 dental implants. There are different advantages for each material. Consulting with your doctor will help you choose the most suitable material for you. The most common materials are:
Say goodbye to covering your mouth because of missing teeth and enhance your smile in the top European dental clinics for all on 4 dental implants systems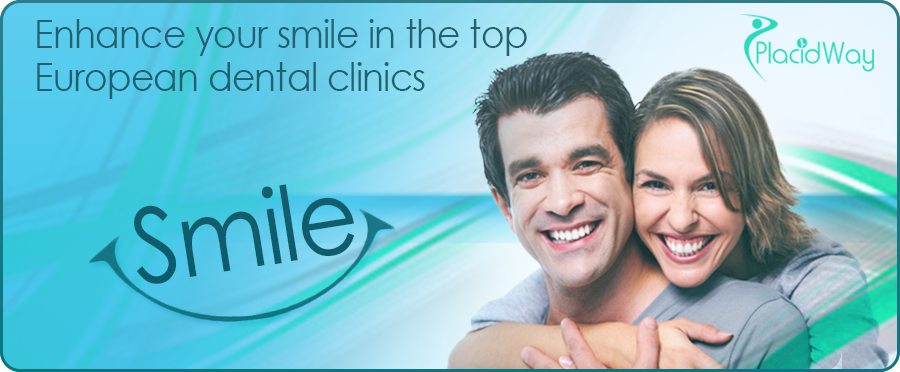 The Benefits of All on 4 Dental Implant Systems in Europe
The advantages of choosing dental implants all on 4 are numerous and vary a lot. From the natural looking aspect of the teeth to the duration of a lifetime for the all-on-four implants, this dental technique restores self-confidence and fixes chewing difficulties. All on 4 dental implants also:
Improve fundamentally dental function
Enhance the natural looking appearance of your teeth
Ease teeth cleaning and maintenance
Add time to the life of the prosthesis
Allow prosthesis to be aesthetically pleasing for a longer period of time
Minimize the surgical procedures and treatment time
Reduce the time of recuperation
PlacidWay's European dental implants medical centers have provided their top options for you to choose from.
Top Dental Clinics in Europe for All-on-4 Dental Implants
TURKEY

Tanfer Clinic Istanbul, Turkey

Dr. Nevsin Sener Dental Treatment Clinic Izmir, Turkey

Dentart Implant and Aesthetic Dentistry in Istanbul, Turkey

Dentram Clinics in Istanbul, Turkey
CROATIA

Smile Studio, Rijeka, Croatia

Pantalon Dental Practice, Zadar, Croatia

Dental Implants Croatia, Dubrovnik, Croatia
GERMANY

Kliniken Allianz Munchen | Munich Clinics Alliance, Munich, Germany

Medical Center University of Freiburg, Freiburg, Germany

Clinique Generale-Beaulieu, Geneva, Switzerland 
POLAND

KCM Clinic, Jelenia Gora, Poland
HUNGARY
Fedasz Dental Clinic, Budapest, Hungary
UKRAINE
KievDent Dental Clinic, Kiev, Ukraine
If dentures are no longer a viable solution, if you keep losing or you lost all your teeth, the all-on-4 dental implants helps you recover the full functions of your mouth restored and thus be able to eat and chew whatever you like or crave.
The Best 10 Cosmetic Dentists
in Paris, France
1. Albert Kohen

Oral Surgeons, Cosmetic Dentists, Periodontists

Gare du Nord/La Chapelle, 10ème

140 rue la Fayette

75010 Paris

France

Phone number 01 40 37 08 08

2. LInda Berdugo-Trumer

Oral Surgeons, Cosmetic Dentists

Nation/Vincennes, 12ème

25 rue du Rendez-Vous

75012 Paris

France

Phone number 01 43 43 54 94

3. SOS Urgences Dentaires et Stomatologiques

General Dentistry, Cosmetic Dentists

Champs-Elysées, 8ème

45 avenue George V

75008 Paris

France

Phone number 01 40 70 96 26

Palais Royal/Musée du Louvre, 1er

11 ave Opéra

75001 Paris

France

Phone number 01 42 60 62 52

5. Cabinet Dentaire Vendôme

Periodontists, Cosmetic Dentists, General Dentistry

Place Vendôme, 2ème

8 rue de la Paix

75002 Paris

France

Phone number 01 42 61 71 81

6. Arash Zarrinpour

Oral Surgeons, Cosmetic Dentists

Concorde/Madeleine, 1er, 9ème

7 boulevard de la Madeleine

75001 Paris

France

Phone number 01 45 44 99 81

7. Eric Hazan

General Dentistry, Cosmetic Dentists

16ème

185 Rue Pompe

75116 Paris

France

Phone number 01 47 27 45 35

Dr. Hazan saved my trip to Paris.  I arrived in Paris on a Saturday from Prague with a very painful tooth abscess.   A friend of ours recommended that we contact the America

8. Dentiste Paris

Oral Surgeons, Cosmetic Dentists

Saint-Lazare/Grands Magasins, 8ème

24 rue du Rocher

75008 Paris

France

Phone number 01 45 61 98 60

9. William Sainte-Rose

General Dentistry, Oral Surgeons, Cosmetic Dentists

Pereire/Cardinet/Courcelles, 8ème

73 Rue Courcelles

75008 Paris

France

Phone number 01 42 27 37 15

10. François Aulagner

Oral Surgeons, Cosmetic Dentists

Buttes Chaumont, 19ème

22 avenue de Laumière

75019 Paris

France

Phone number 01 42 45 06 00

Champs-Elysées, 8ème, 16ème

38 avenue Marceau

75008 Paris

France

Phone number 01 40 73 80 80

12. Chouraqui Jean-François

Oral Surgeons, Cosmetic Dentists

Pereire/Cardinet/Courcelles, 17ème

77 avenue Wagram

75017 Paris

France

Phone number 01 47 63 30 62

13. cabinet Dr Dupeyrat Gerard

Champs-Elysées, 8ème

6 Rue De La Renaissance

75008 Paris

France

Phone number 01 47 23 69 27

14. Sarah Illouz

Oral Surgeons, Orthodontists, Cosmetic Dentists

République, 3ème

17 place de la République

75003 Paris

France

Phone number 01 42 78 55 01

16ème

3 avenue du Président Wilson

75016 Paris

France

Phone number 01 40 15 63 44

16. Ralph Badaoui

Oral Surgeons, Cosmetic Dentists

Champs-Elysées, 8ème

45 avenue George V

75008 Paris

France

Phone number 01 40 70 95 64

Doctor Ralph Badaoui was incredible. We were on vacation in Paris when my veneer broke in half with a delicious baguette.

17. Dr. Boris Mazinani

Cosmetic Dentists, Oral Surgeons, General Dentistry

Chemin Vert/Richard Lenoir, 20ème

15 Rue Houdart

75020 Paris

France

Phone number 01 43 49 51 99

18. Cabinet d'orthodontie et de dentisterie esthétique

Orthodontists, Cosmetic Dentists, General Dentistry

16ème, Auteuil

17 chaussée de la Muette

75116 Paris

France

Phone number 01 45 20 54 65

19. Dr Ludovic Ache

Cosmetic Dentists, Oral Surgeons, General Dentistry

Victor Hugo, 16ème

5 Rue Pompe

75016 Paris

France

Phone number 01 42 88 01 88

20. Alexandra Bismuth-Sion

Cosmetic Dentists, General Dentistry

14ème, Denfert-Rochereau

108 rue d'Alesia

75014 Paris

France

Phone number 01 45 42 15 21
21. Valérie Galula

Periodontists, Cosmetic Dentists, Oral Surgeons

13ème, Jardin des Plantes/Austerlitz

37 rue Charcot

75013 Paris

France

Phone number 01 45 83 88 66

22. Dr Julien Petillo

Cosmetic Dentists, General Dentistry

Pereire/Cardinet/Courcelles, 17ème

49 Rue Laugier

75017 Paris

France

Phone number 01 47 63 14 31

23. Sandrine Younes

Cosmetic Dentists, Periodontists

Trocadéro/Iéna, 16ème

16 avenue Paul Doumer

75116 Paris

France

Phone number 01 77 62 76 01

Auteuil, 16ème

16 rue Passy

75016 Paris

France

Phone number 01 45 20 18 36

25. Carole Hagege

Oral Surgeons, General Dentistry, Cosmetic Dentists

Pereire/Cardinet/Courcelles, 17ème

170 boulevard Berthier

75017 Paris

France

Phone number 01 46 27 50 38

26. Débroah Rozental-Arditti

15ème, Vaugirard/Grenelle

267 rue Leourbe

75015 Paris

France

Phone number 01 45 58 40 62

Victor Hugo, 16ème

73 ave Paul Doumer

75016 Paris

France

Phone number 01 45 04 53 34

28. Laurent Barda

Oral Surgeons, Cosmetic Dentists

Champs-Elysées, 8ème

8 Avenue Bertie Albrecht

75008 Paris

France

Phone number 01 45 61 15 18

29. Dr Véronique de Pommereau

Pereire/Cardinet/Courcelles, 17ème

42 rue Laugier

75017 Paris

France

Phone number 06 11 17 34 96

30. Fréderic Mamelle

Sports Medicine, Cosmetic Dentists

72 Rue Anatole France
92300 Levallois Perret
France

Phone number 01 47 57 98 00
31. Dr Maryse Lellouche

Orthodontists, Cosmetic Dentists

Vaugirard/Grenelle, 15ème

74 Rue Lecourbe

75015 Paris

France

Phone number 01 45 67 57 77

32. Cabinet Dentaire du Dr Lambert

7ème

38 Boulevard Raspail

75007 Paris

France

Phone number 01 45 48 30 47

33. Daniel Banoun

Cosmetic Dentists, Medical Centers

Bercy, 12ème

5 Rue Parrot

75012 Paris

France

Phone number 01 43 42 05 42

Batignolles, 17ème

67 rue des Dames

75017 Paris

France

Phone number 07 77 39 86 58

Champs-Elysées, 16ème

19 avenue de la Grande Armée

75116 Paris

France

Phone number 01 44 71 01 11

36. Ernenwein

Oral Surgeons, Cosmetic Dentists

Trocadéro/Iéna, 16ème

2 rue Scheffer

75116 Paris

France

Phone number 01 56 10 55 55

99 ave du Roule

92200 Neuilly-sur-Seine

France

Phone number 09 75 18 55 51

38. Sophie Lellouche

Cosmetic Dentists, General Dentistry, Periodontists

9 rue Général Leclerc

92130 Issy les Moulineaux

France

Phone number 01 46 48 89 77

39. Yaël Ghnassia Halfon

Cosmetic Dentists, General Dentistry, Oral Surgeons

111 rue de Paris

94220 Charenton-le-Pont

France

Phone number 01 48 93 27 62

40. Gabriel Ohana

Periodontists, Cosmetic Dentists

70 avenue Gambetta

92400 Courbevoie

France

Phone number 01 43 33 19 49
41. Cabinet de Parodontologie et d'Implantologie

Oral Surgeons, Periodontists, Cosmetic Dentists

65 rue Fessart

92100 Boulogne Billancourt

France

Phone number 01 46 05 24 40

42. Thierry Demonchaux

General Dentistry, Cosmetic Dentists, Periodontists

9 bis boulevard Jean Jaurès

92100 Boulogne-Billancourt

France

Phone number 01 40 92 72 34

43. Dr Perez Steven

Cosmetic Dentists, Oral Surgeons

27 place Georges Pompidou

92300 Levallois Perret

France

Phone number 01 40 89 90 40

44. Jean-Paul Berdaa

Oral Surgeons, Orthodontists, Cosmetic Dentists

25 rue Perronet

92150 Suresnes

France

Phone number 01 45 06 96 38

45. Cabinet Dentaire du Dr John Jourdin

Oral Surgeons, Cosmetic Dentists

25 rue Perronet

92150 Suresnes

France

Phone number 01 45 06 96 40

46. Jean Marc Elhaik

Cosmetic Dentists, Periodontists, General Dentistry

114 ave Galliéni

92100 Boulogne-Billancourt

France

Phone number 01 46 05 05 15

47. Jérémy Dukan

Oral Surgeons, Orthodontists, Cosmetic Dentists

1 rue Joannes

93220 Gagny

France

Phone number 01 43 81 56 80

48. Cyril Dray

Orthodontists, Cosmetic Dentists, Oral Surgeons

4 rue Saint-Germain

93220 Gagny

France

Phone number 01 43 81 14 00

49. Mickaël Ohayon

Oral Surgeons, Periodontists, Cosmetic Dentists

75 boulevard Charles de Gaulle

95110 Sannois

France

Phone number 01 39 80 52 58

140 rue Général Leclerc

95130 Franconville

France

Phone number 01 34 14 84 28